Hong Kong AsiaWorld-Expo, October 18-21, Booth 6R16
We are thrilled to announce that BJBJ AUDIO will be participating in the Global Resources Consumer Electronics Show 2023, held at the Hong Kong AsiaWorld-Expo from October 18th to 21st. As one of the most prominent events in the consumer electronics industry, this exhibition promises exciting opportunities to showcase our cutting-edge audio products, connect with industry leaders, and engage with tech enthusiasts from around the world.
The Global Resources Consumer Electronics Show
The Global Resources Consumer Electronics Show is a world-renowned event that brings together top players in the consumer electronics sector. It's a platform where innovation meets opportunity, and where companies like BJBJ AUDIO can present their latest products and solutions to a global audience.
Visit BJBJ AUDIO at Booth 6R16
We cordially invite you to visit our booth, 6R16, in Hall 6. At our booth, you will have the chance to experience firsthand the exceptional quality and innovation that BJBJ AUDIO is known for. Our team will be there to introduce you to our latest offerings, including our TWS (True Wireless Stereo) earphones, ANC (Active Noise Cancellation) technology, and other cutting-edge audio solutions.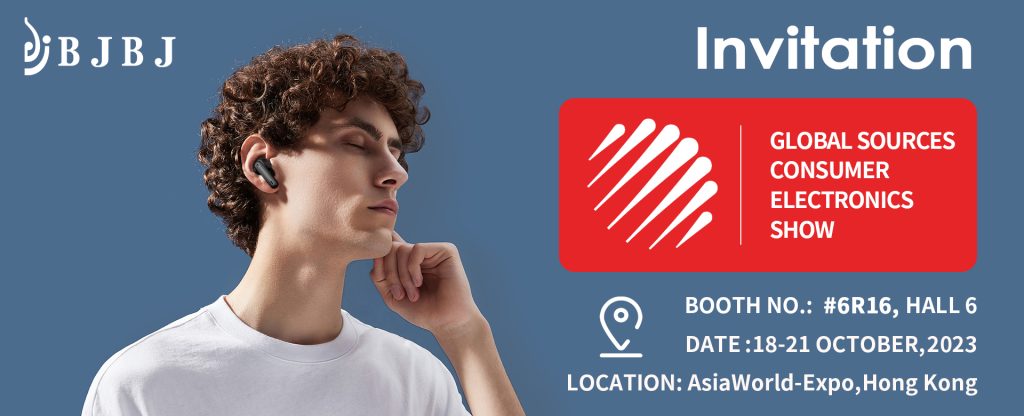 Discover Innovation in Audio Technology
At BJBJ AUDIO, we are committed to pushing the boundaries of audio technology. Our products are designed to deliver the ultimate listening experience, whether you're an audiophile seeking superior sound quality or a professional looking for reliable audio solutions. With our innovative designs and commitment to excellence, we're confident that our products will leave a lasting impression.
Connect with Industry Experts
The Global Resources Consumer Electronics Show is not just a platform for showcasing products; it's also a hub for networking and knowledge sharing. BJBJ AUDIO values the opportunity to connect with industry experts, partners, and customers during the event. We're excited to engage in meaningful discussions about the future of audio technology and explore potential collaborations.
Stay Updated
As the event draws nearer, we will be sharing more details about our participation and the specific products we will be showcasing. Be sure to follow BJBJ AUDIO on social media and visit our website to stay updated on our latest announcements and insights from the show.
We look forward to welcoming you to our booth at the Global Resources Consumer Electronics Show 2023 in Hong Kong. Together, let's explore the future of audio technology and innovation. See you there!
Read More: